American Ballet Theatre returned to China on Thursday for the first time in a decade in the latest sign that strained U.S.-China relations are beginning to improve.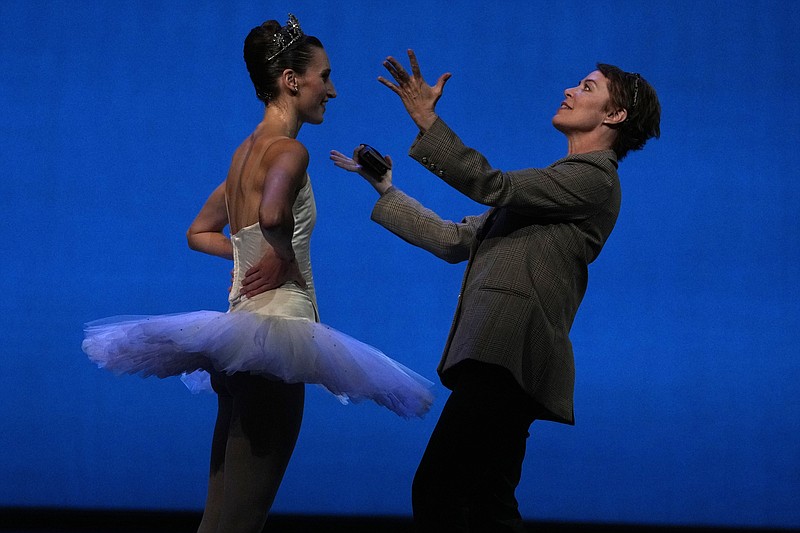 The American Ballet Theater's artistic director Susan Jaffe, right, gestures to ballerina Devon Teuscher during rehearsals before opening night at the Shanghai Grand Theater in Shanghai, Thursday, Nov. 2, 2023. The American national ballet company is returning to China for the first time in a decade for shows in Shanghai and Beijing in the latest sign strained relations between the United States and China are beginning to thaw. (AP Photo/Ng Han Guan)
SHANGHAI, China -- American Ballet Theatre returned to China on Thursday for the first time in a decade in the latest sign that strained U.S.-China relations are beginning to improve.
The New York-based troupe's 85 dancers prepared for opening night at the Shanghai Grand Theater, where they were to perform "Classic Old and New," a program of three varied works encompassing contemporary as well as classical choreography, said Susan Jaffe, the group's artistic director.
The tour marks a revival of cultural exchanges between China and the United States. The Asian nation will also host a series of performances starting next week by the Philadelphia Orchestra, marking the 50th anniversary of the orchestra's historic visit to China in 1973.
After four nights of performing in Shanghai, ABT will move to Beijing, where it will stage its highly acclaimed version of "Giselle," a classical romantic ballet, at the National Center for the Performing Arts from Nov. 9 to Nov. 12.
"It's a very special year for me," said Jaffe, who took over as the company's artistic director less than a year ago and last performed in China in 2000 as a principal dancer.
"Ballet is a universal language," she added. "We share emotion and beauty and form and musicality and love through our art form, and for Americans to be able to share this love and this universal language with the Chinese people at this moment in time of cultural exchange I think is a very healing experience for everyone -- for us, and we also hope for the Chinese people."
The shows were initially scheduled for 2021 but were postponed due to the coronavirus pandemic.
Zhang Xiaoding, general manager of the Shanghai Grand Theatre, said it had been looking forward to resuming its relationship with ABT as soon as possible following the pandemic restrictions.
A 43-year-old Shanghai resident, Zhu Xiaoyi, who took ballet classes during her school years, prepared to watch the inaugural performance of "Classic Old and New" on Thursday. She said cultural exchanges between the U.S. and China "are very necessary" at this time.
"I hope that through cultural exchange ... communications and exchanges in other fields can increase," she said.
Washington and Beijing have made overtures to each other in recent weeks as they prepare for a meeting between presidents Joe Biden and Xi Jinping later this month at the Asia-Pacific Economic Cooperation summit in San Francisco.
Last week, California Gov. Gavin Newsom was warmly received in Beijing, while Chinese Foreign Minister Wang Yi visited Washington. Wang said, however, that the path to a Biden-Xi meeting would not be "smooth sailing."
China-U.S. relations have soured over issues ranging from security, trade and human rights to international conflicts such as Russia's invasion of Ukraine.
Despite their differences, both countries want more people-to-people exchanges, U.S. Ambassador to China Nicholas Burns said Monday during an event celebrating American World War II veterans who helped China battle Japan.
"We're at a difficult moment in the U.S.-China relationship," Burns said. "We are in many ways rivals, strategically. ... But the two peoples of the countries have always been together."
The ABT last performed in China in March 2013 in Beijing. Founded in 1939, ABT was the first American dance company to perform in the former Soviet Union, in 1960, as part of then-President Dwight Eisenhower's cultural diplomacy initiative.
Information for this article was contributed by Caroline Chen of The Associated Press.
Print Headline: U.S. ballet troupe back in China after 10 years
Copyright © 2023, Northwest Arkansas Newspapers LLC. (NWA Media)
All rights reserved.
This document may not be reprinted without the express written permission of Northwest Arkansas Newspapers LLC. Please read our Terms of Use or contact us.
Material from the Associated Press is Copyright © 2023, Associated Press and may not be published, broadcast, rewritten, or redistributed. Associated Press text, photo, graphic, audio and/or video material shall not be published, broadcast, rewritten for broadcast or publication or redistributed directly or indirectly in any medium. Neither these AP materials nor any portion thereof may be stored in a computer except for personal and noncommercial use. The AP will not be held liable for any delays, inaccuracies, errors or omissions therefrom or in the transmission or delivery of all or any part thereof or for any damages arising from any of the foregoing. All rights reserved.
You may also like