For six months, an injury meant that ballet dancer Benedicte Bemet could only walk in high heels.
Benedicte Bemet is currently performing one of the lead roles in Romeo and Juliet at The Australian Ballet. Five years ago, however, the ballet dancer had an injury so severe that for six months she could only walk while wearing high heels.
"My main challenge after injury was learning to be patient," Bemet says.
"These days I can tell when I'm pushing it too hard, not allowing my body proper recovery and I can nip it in the bud. I can go see the team of physiotherapists at the ballet before a small niggle becomes a larger injury."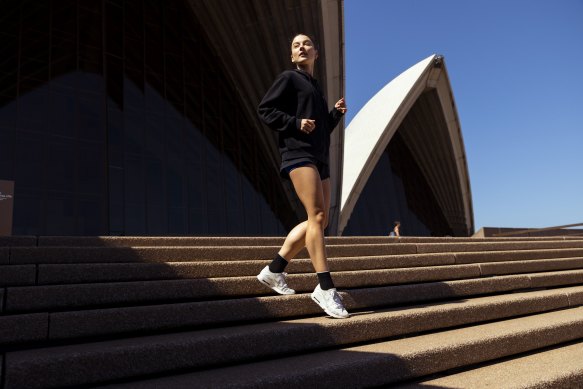 Australian Ballet Principal Artist Benedicte Bemet exercises on the stairs at the Sydney Opera House.Credit:Dominic Lorrimer
Bemet is currently in Sydney, touring the latest season, and access to physiotherapists is available wherever the production goes. "I've really learned to stress less and enjoy dancing ... as a result of the excellent support we receive from the physiotherapists daily in our training," she says. "It's made a huge difference to how I dance, and how I feel."
There was a time when career-ending injury was an overwhelming, constant fear for ballet dancers. Thankfully, as Dr Sue Mayes, director of The Australian Ballet's artistic health team and adjunct research fellow at La Trobe University, asserts, this time has been superseded by a new era of strategic, preventative research-driven partnership between health professionals and ballet dancers. The Australian Ballet is leading this trend with La Trobe University to support career longevity and excellent wellbeing in ballet dancers.
Since starting her role as principal physiotherapist at The Australian Ballet in 1997, Mayes says the prevalence of dancer injury has significantly reduced and that this is due to an emphasis on preventative education, including reporting mild symptoms such as stiffness and cramping.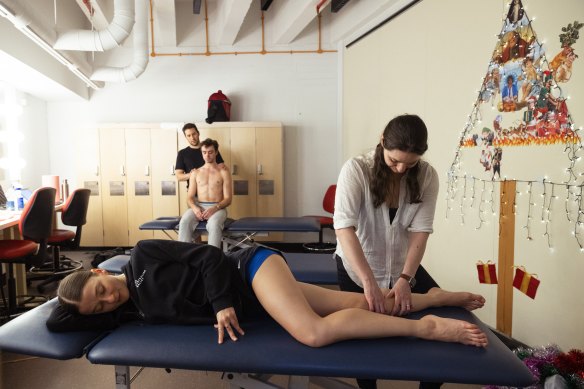 Australian Ballet Principal Artist Benedicte Bemet recieves treatment from Australian Ballet's Rehabilitation Specialist Sophie Emery at the Sydney Opera House.Credit:Dominic Lorrimer
Dr Ebonie Rio, sports physiotherapist and senior clinical research fellow at La Trobe/The Australian Ballet, describes the dancers' program, which is based on a varied schedule of individualised daily conditioning exercises, performed in the gym every morning before class, under the guidance of physiotherapists.
"The dancers come in early for their preparation," Rio says. "They do foot strengthening, warm up work on the Pilates reformer machines and even have the opportunity to pop in to see physiotherapists should they detect any niggles, every morning.
"Fantastic communication is at the heart of dancer care. This pop-in time is so important, and dancers are always supervised in their programs. Our physios rotate around the gym; exercises are reviewed frequently, so they don't become monotonous and stay rigorous."
As a result, Rio says, reporting of serious stress fractures, ankle and foot pain has reduced in number and severity.
Some of the benefits of this preventative/educative model are psychological too: "I am so much more in tune with my body now," Bemet says.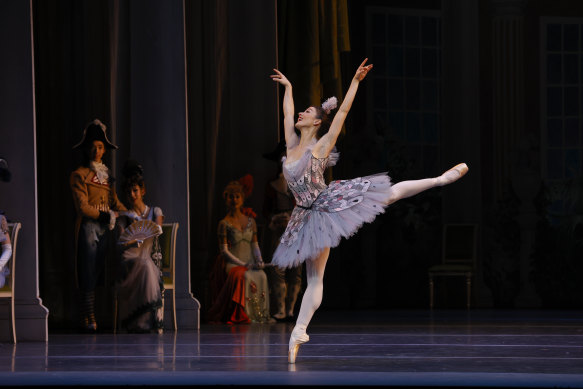 Benedicte Bemet as Columbine in the 2022 production of Harlequinade.Credit:Jeff Busby
One of the newest lines of research coming out of the La Trobe and The Australian Ballet partnership is a focus on mental wellbeing, and how this can avoid injury in dancers. "Mental fatigue may predispose dancers to injury or make it more challenging to learn new choreography," Rio says. "Ballet dancers are extraordinary in the amount of training, learning new choreography, rehearsing and performing they do, all in one day."
"They are athletic artists, not artistic athletes," Mayes says.
Demands upon the dancers extend beyond the physical; they are often training, rehearsing and performing six days a week. La Trobe trialled an app to allow the dancers to scale their wellbeing. "Many of the dancers scored high on mental fatigue and lack of sleep and physical injury less highly," says Mayes. "We're looking at this research and how we might recommend adaptation to the dancers' training and schedules, for example spending shorter, more focused periods on choreography and allowing more time for rest."
While much of the research is positive, Mayes points to one area of concern. There has been a rise of stress fractures very recently, since COVID lockdowns. "The dancers were locked down, unlike the sports athletes, for long periods of time in Melbourne," says Mayes. "They could only practise in the confines of their home, and it limited the range of their preventative injury programs. Subsequently, some of the dancers' bone density may have deteriorated, so we're seeing the impact of that now, and this may take a year or two of rehabilitation to correct."
Overall, the partnership is delivering results to feel optimistic about. As recently as five years ago, the approach to dancer health was remedial. Now, however, it's about stopping problems before they start, to support a generation of physically and mentally more resilient and happy dancers.
A cultural guide to going out and loving your city. Sign up to our Culture Fix newsletter here.
An earlier version of this article stated that Dr Sue Mayes started her role as principal physiotherapist at The Australian Ballet in 2017. The correct year is 1997.
You may also like