The Channel island now has a professional ballet outfit, run by Canadian former dancer Carolyn Rose Ramsay. She remembers rehearsals in a potato warehouse and shares ambitious plans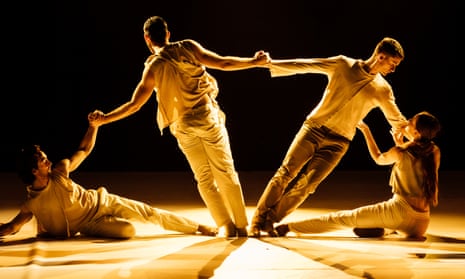 Kamal Singh, Ohad Caspi, Reece Hudson and Anna Daly in A Where, choreographed by Jakub Jakoubek and Emeline Rochefeuille. Photograph: Rebecca Le Brun

Kamal Singh, Ohad Caspi, Reece Hudson and Anna Daly in A Where, choreographed by Jakub Jakoubek and Emeline Rochefeuille. Photograph: Rebecca Le Brun

Dance nation'We will reach everyone in Jersey eventually': island ballet company's giant leap

The Channel island now has a professional ballet outfit, run by Canadian former dancer Carolyn Rose Ramsay. She remembers rehearsals in a potato warehouse and shares ambitious plans

Lyndsey WinshipTue 18 Jul 2023 01.00 EDTLast modified on Tue 18 Jul 2023 01.24 EDT

'I've never seen so much bunting in my entire life," says Carolyn Rose Ramsay when we meet in Jersey, an island with the air of a perennial summer fete. In January, the Vancouver-born former dancer founded the Channel Islands' first professional ballet company, Ballet d'Jèrri, here. Six months later they were performing at Spoleto arts festival in Italy. Can an island with the population of Woking sustain a national ballet company? And how did a Canadian end up launching it?

It started almost by accident, but making it work has been an act of determined design. Ramsay danced with the Cuban National Ballet, Miami City Ballet, Les Ballets de Monte Carlo and the Norwegian National Ballet. She is immediately recognisable as a ballet dancer: upright posture, tidy, stylish appearance. She moans a little as she shifts in her chair. "My back's killing me." It is the telltale legacy of a prolapsed disc that expedited the end of her dancing career. Leaving ballet is like leaving the military: in a flash, you lose your life's structure. So Ramsay's strategy was to jump straight into a new project. She trained to be a pilot in Canada and got her licence. "But it turns out that I have too short an attention span to be in a small box that long," she says. "So, I got into the operations side of aviation."

Working in flight dispatch in the UK, Ramsay began to miss the theatre and started looking at jobs in the arts. She landed a role with a classical music organisation in Jersey, and almost immediately after she moved there, Covid hit. With the borders closed, Ramsay had time to slow down. "I started to think, what is it that I actually want to do? What actually gets me excited? And what can I offer as well, what will benefit someone else?"

Ramsay looked at bringing dance companies to perform in Jersey, but the costs of touring to the island were discouragingly huge. A friend suggested she would be better off starting her own company. "I think he was joking, but I was like, hmm, I have some time on my hands, might as well put together a spreadsheet and start looking at some numbers …"

So, here we are in a studio in a leisure centre on the hill above St Helier. The stone building is a 19th-century fortress that today houses a few people playing badminton and a disused soft-play centre. On barres in the centre of the room, the dancers are going through the ritual of daily class, steadily stripping off baggy layers as the heat rises. Ramsay had 1,000 applicants for nine spots in the company, "which was a little overwhelming", she says. After sifting through audition videos, they invited 75 to try out in person. One of the chosen crew is a Jersey native, the others international, which reflects the nature of the dance industry.

How to get the money together for such a venture is the big question. The government gave Ramsay a small sum to prove her concept. "She came back and said: 'OK, I've got a ballet company,'" says Jersey's deputy chief minister Kirsten Morel, remembering his surprise. Not that it's been easy. "I moved forward with this idea thinking, 'I'll just see if I can take one more step, and when I run out of road, that's fine," says Ramsay. "Sometimes it's really, really hard, but there was always another step to take."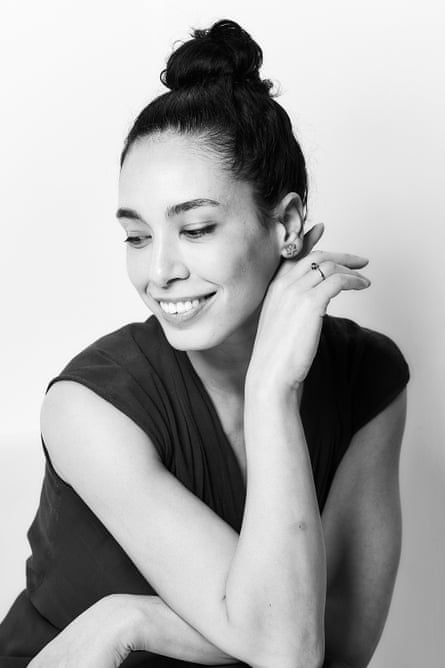 'There was always another step to take' … Carolyn Rose Ramsay. Photograph: Danny Evans
Between the government and private donors and Ramsay's tenacity and creativity, they got started, rehearsing first in a potato warehouse. "They keep it immaculately," says Ramsay, "but it's a massive shed, concrete floors, not a very well-insulated ceiling, it was January and freezing." The company left when potato season arrived. Ramsay's dream is to be based at Jersey's 625-seat opera house, which is being refurbished to reopen at the end of 2024.
Ramsay lined up an impressive programme for an untested company's first season: big-name Israeli choreographer Itzik Galili; Garrett Smith, who has created for the Mariinsky Ballet; the Royal Ballet's Fernando Montaño; and ex-Royal Ballet of Flanders dancer Pedro Lozano Gomez. It is all very current, contemporary ballet, rather than the traditional tutu-tastic kind. "I had some concerns about how it was going to land," says Ramsay, referring to Jersey's conservative vibe, but their debut in April went down well. They danced a piece by West Coast Swing dance duo Jakub Jakoubek and Emeline Rochefeuille, based around the story of the dancers arriving to live on this island, trying to find their way in a new home. "And the audience absolutely loved it. We had people in tears."
Who do you picture your audience being, I ask. "I know this sounds unrealistically ambitious," says Ramsay, "but there are something like 103,000 people here, and in my mind, that's how big our audience is. We will reach every single one of them eventually."
Jersey's government recently committed 1% of its budget to the arts, keen to counter the "demographic challenges", as Morel puts it, of an ageing population, by encouraging the kind of culture that will attract younger people to the island (or stop them leaving). Ballet d'Jèrri wants to be at the heart of that. Despite being an outsider – and Ramsay's heard a few sceptical comments – she wants the company to belong to the island and become something Jersey can be proud of. "That's something you have to earn," the newcomer says, turning back to the hard graft of rehearsal.
You may also like